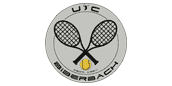 Also on the site of the UTC Biberbach has been offering the opportunity to play padel since 2015. The offer is aimed at beginners up to tournament players. There is currently only one court, but since there is still a lot of space around the facility, we hope that there will soon be a second padel court there as well.
Contact is best via Simon Peschek at +43 (0) 676 / 898665502.
Note for padel guests: The guest cards are in the showcase and must be dropped in the mailbox together with the fee before the start of the game!
Padel UTC Biberbach Book seats
Attachment: Sports ground of the UTC Biberbach
Clubhouse
Seats: 1 outdoor padel court (artificial turf) with floodlights
Playing times: Daily from 08:00 - 22:00 (by arrangement)
Costs: Guest card from 12,- Euro / hour
Balls and padel rental rackets are available in the clubhouse
Rental fee rackets: 2,- Euro
Book: Online booking or via Padel UTC Biberbach Contact details
Other: Annual membership Padel from 60,- Euro
Equipment rental
Tournaments
Other sports
More Padel courts in Austria you can find here!
Padel Biberbach - 1 padel courts
Indoor Padel
Outdoor Padel
Racket rental
Padel Training
Padel tournaments
Online booking
Gastronomy
Opening hours Padel Biberbach
Monday:

08:00 - 22:00

Tuesday:

08:00 - 22:00

Wednesday:

08:00 - 22:00

Thursday:

08:00 - 22:00

Friday:

08:00 - 22:00

Saturday:

08:00 - 22:00

Sunday:

08:00 - 22:00
Contact Padel UTC Biberbach
Company:

Padel UTC Biberbach

Address:

Pyhra 412

POSTCODE:

3353

City:

Biberbach

Land:

Austria