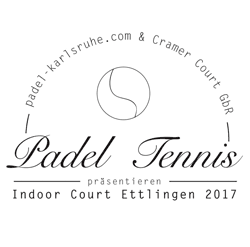 Padel in Ettlingen! Karlsruhe-Ettlingen is home to Baden Württemberg's first indoor padel court! Padel tennis can be played here even in the cold season. The court itself is played on green artificial turf and thanks to strong floodlighting, padel can even be played deep into the night at the Ettlingen padel hall!
And there is plenty of parking directly in front of the hall. And of course there is also a wet and changing area for the padel cracks (in the main building). Afterwards, you can linger in the "Olymp" restaurant.
Those who are still without a playing partner will be helped in their search for a player by the responsible persons and the well-connected Karlsruhe padel scene.
The padel court is located in an old tennis hall in Ettlingen and was built by Padel court construction Klenert & Vey built. The project was developed in cooperation with Padel Karlsruhe Durlach-Aue.
Contact person is Frank Cramer!
Book Ettlingen Padel courts
Costs:
depending on day and time 20,- or 24,- Euro per hour and court (total price for all players)
Book: Online booking, via mail (info@padel-shop24.com) or via Padel Tennis Ettlingen Contact details
Padel Halle Ettlingen - 1 padel courts
Services Padel Halle Ettlingen
Indoor Padel
Outdoor Padel
Racket rental
Padel Training
Padel tournaments
Online booking
Gastronomy
Opening hours Padel Halle Ettlingen
Monday:

07:00 - 22:30

Tuesday:

07:00 - 22:30

Wednesday:

07:00 - 22:30

Thursday:

07:00 - 22:30

Friday:

07:00 - 22:30

Saturday:

07:00 - 22:30

Sunday:

07:00 - 22:30
Padel Tennis Ettlingen News
Contact Padel Tennis Ettlingen
Company:

Padel Tennis Ettlingen

Address:

In the sports park 1

POSTCODE:

76275

City:

Ettlingen

Land:

Germany