Wilson launches the Bela v2 collection together with Fernando Belasteguín
Wilson PadelWilson Sporting Goods Co., the leading racket sports brand, today unveiled its Bela v2 collection designed in collaboration with Fernando "Bela" Belasteguín.
The second version of the collection released together with the Padelstar offers important improvements in performance as well as a groundbreaking new design.
In addition to the existing Bela Pro v2, which was released in December 2022 and with which Bela competed at the Premier Padel in Milan and the WPT Masters in Barcelona, the collection includes four new padel rackets:
Bela Elite v2
Bela LT v2,
Bela Team v2
Bela Junior v2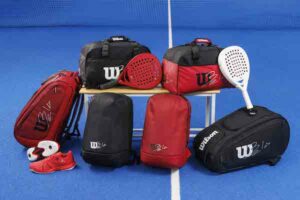 The racket range has something to offer players of all levels: from beginners or casual players who need a reliable padel racket to advanced players interested in maximum power and control.
The collection also includes a new model of the Bela Pro shoe in red, which complements the black and blue/white (for the special "Argentina" model) colourways already available.
The Bela Pro shoe was specially developed for the movements typical of padel play.
"After two years of collaboration with Bela, we are very proud to introduce the new Bela v2 collection, which is a technological evolution with revolutionary design compared to Bela v1. Developed with the best padel player of all time, this collection is made for everyone and underlines our daily commitment to innovate and continuously improve the playing experience for our entire community of players," explains Iñaki Cabrera, Global Business Director for Wilson Padel.
"I have always been very interested in the design and development of padel products, so I am very happy to be able to contribute my experience to bring the best and best performing products to the market together with Wilson. I live and practice sport wholeheartedly, and that's why I love the new colour of the collection," says Fernando Belasteguín .
The collection also features a paddle bag, a backpack and a sports bag for activities on and off the court.
All products are now available worldwide on wilson.com and from selected wholesale partners.
Padel Tennis Location Map