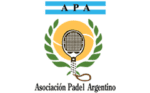 Padel Federation Argentina
The Argentine Padel Federation based in Buenos Aires, is an organisation recognised by the Ministry of Sport of the Nation, the Argentine Olympic Committee and the Argentine Sports Confederation, and is also a founding member of the International Padel Federation FIP. Besides the Spanish Padel Federation the APA is by far the largest padel association in the world.
The world champion country of 2014 around WPT-The team, which includes stars such as Sebastian Nerone, Christian Gutierrez, Maxi Grabiel, Maxi Sanchez, Adrian Allemandi and permanent number 1 Fernando Belasteguin, is in full control of the popular sport and has ambitions to have padel permanently recognised as an Olympic discipline.
Padel Federation Argentina
FIP Membership
EPA Membership
Non-profit
Association account
Address:

Esmeralda 1075, piso 3º of. 381007 Capital Federal ARGENTINA

POSTCODE:

381007

City:

Buenoes Aires

Land:

Argentina