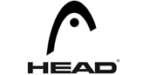 The sporting goods manufacturer HEAD with headquarters in Amsterdam and further locations in Kennelbach and Schwechat in Austria, is world-renowned for the development of innovative sports equipment in tennis and skiing. Tennis stars like Novak Djokovic and Andy Murray are just two of the many exceptional athletes who rely on HEAD with conviction.
In padel, this is the Argentinean perennial champion Fernando Belasteguin, who has won HEAD many times on the World Padel Tour HEAD has made a name for itself in the international padel sport. But also the official game ball of the WPT has been supplied by HEAD for years.
The HEAD brand originated when its founder, aircraft engineer Howard Head, produced the first ski in sandwich construction in the 1950s. Today, the listed company is a market leader in many areas and continues to revitalise the sports world with innovative products.
Overview Assortment HEAD Padel
Padel rackets

Padel bags

Padel balls

Padel shoes

Padel sportswear
Padel Racket
Padel balls
Padel shoes
Padel clothing
Other sports
Company:

HEAD Padel

Address:

Wuhrkopfweg 1

POSTCODE:

6921

City:

Kennelbach

Land:

Austria