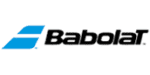 Padel BabolatBabolat is a French manufacturer of tennis, badminton and now also padel products. The company was founded in 1875 by Pierre Babolat in Lyon and the focus was mainly on the production of tennis strings made of natural gut.
It was not until the mid-90s that complete racket sets and accessories were also offered. Today, Babolat is one of the leading manufacturers of tennis equipment worldwide. Sponsorships with tennis professionals of the DTB and especially with the French Open champions Carlos Moya and Rafael Nadal have made the brand known worldwide.
It was only in 2012 that Babolat started distributing padel products out of Spain. In addition to the Spanish tennis greats Moya and Nadal, Babolat relies on players from the WP Toursuch as Lucia Sainz, Miguel Lamperti or Jordi Muñoz Baixas.
Babolat Padel at a glance
Padel rackets
Padel bags
Padel shoes and clothing
Padel Racket
Padel balls
Padel shoes
Padel clothing
Other sports
Company:

Babolat Padel

Address:

33 Quai Paul Sédallian

POSTCODE:

69009

City:

Lyon

Land:

France