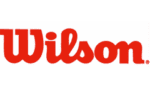 Wilson Padel: Wilson Sporting Goods is an American sporting goods manufacturer that is part of the Finnish group Wilson Sporting Goods. Amer Sports belongs to. Wilson's business segments include: Golf, Teams Sports and Racquet Sports, including Padel.
The company relies on player insights to develop innovative padel products that set new standards. With a passion for designing products that enable athletes of all levels to perform at their best, Wilson has earned its position as a leader in the sporting goods segment.
Since its founding in 1914, Wilson has earned a firm place in sports history and has had a decisive influence on the development of many sports. The creation of groundbreaking technologies and the production of legendary classics have given the company a unique reputation worldwide.
Wilson is and has been the supplier of the most successful tennis players of all time, including Roger Federer, Pete Sampras, Steffi Graf and Serena Williams. Wilson brand tennis balls are played at the US Open, Australian Open, Davis Cup and Fed Cup, as well as on the WTA Tour.
The Wilson Padel Pro Team includes, among others, the top ten players of the World Padel Tour Fernando Belasteguín, Cristian Gutierrez, Matias Diaz Sangiorgio and Francisco Navvaro Compan.
Overview Wilson Padel Products
Padel rackets
Pade bags
Padel balls
Padel clothing
Padel accessories
Padel Racket
Padel balls
Padel shoes
Padel clothing
Other sports
Company:

Wilson Padel

Address:

Parkring 15

POSTCODE:

85748

City:

Garching

Land:

Germany