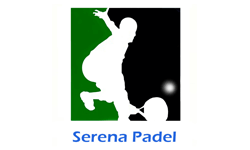 Serena Padel is a Spanish Padel court constructor based in Villanueva de la Serena. The company name Serena Padel is derived from the location of the company headquarters. The company specialises in the construction of high-quality aluminium padel courts. Aluminium padel courts are considered to be particularly durable and aesthetic. That is why the padel courts from Serena Padel are already used all over the world.
Serena Padel takes care of the design of the padel court as well as construction, set-up and furnishing with e.g. floor coverings and floodlights.
In addition to normal, individual, panorama and cover courts, Serena Padel also offers mini padel courts ("baby paddle courts"). These padel courts are particularly suitable for the smaller padel players due to their smaller size.
Foundation
Base Court
Panorama Court
Hall construction
Legal advice
Leasing
Grounds maintenance
Activation player
Gastronomy concept
Company:

Serena Padel

Address:

Avda. Vegas Altas, nº 195

POSTCODE:

06700

City:

Villanueva de la Serena

Land:

Spain