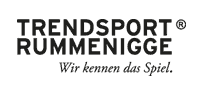 Trend sport Rummenigge Padel
Trendsport Rummenigge has been successfully building padel tennis courts for several years now! Test the premium padel courts from Trendsports Rummenigge now on your home padel court in the Rummenigge Soccer Hall in Münster!
Trendsport Rummenigge, in cooperation with Padelwerk, is currently the first and only provider of padel courts that can be described as completely "made in Germany".
The concepts of quality and safety play a major role in the company tradition of Trendsport Rummenigge, because for more than a decade this brand has been a market leader in the construction of small and mini pitches as well as multifunctional courts for various sports.
And for a few years now, the company has been active in padel court construction and is helping to build up the German padel market.
Trendsport Rummenigge Padel court construction Customers
Among the first customers are:
Managing Partner:
Arnd Schade
Michael Rummenigge
Trendsport Rummenigge works with the Court Manufacturer Padelwerk together.
Foundation
Base Court
Panorama Court
Hall construction
Legal advice
Leasing
Grounds maintenance
Activation player
Gastronomy concept
Trend Sport Rummenigge News
Contact Trendsport Rummenigge
Company:

Trend sport Rummenigge

Address:

Trauttmansdorffstrasse 111

POSTCODE:

48153

City:

Münster

Land:

Germany