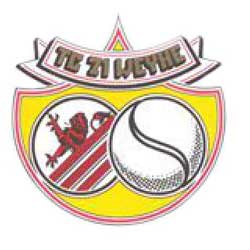 On the grounds of the TC 71 Weyhe e.V. tennis club. (Melchiorshausen) near Bremen, there have been two outdoor padel courts since July 2020 (the first was already built in 2016). TC 71 Weyhe provides 3 licensed padel coaches for training and taster programmes. The games are played on the new, modern outdoor padel court with artificial turf.
The main season for padel runs from April to October. The German Padel Tour (GPS) has also already chosen TC 71 Weyhe as the venue for exciting matches! The contact person is Alexander Schwarz, head of the TC 71.
By the way, the padel courts in Bremen-Weyhe can be accessed very easily via Booking system book!
There is also a Newspaper article about the development of padel at TC Weyhe.
Book Padel Bremen Weyhe courts
Attachment: Tennis court of the TC 71 Weyhe with clubhouse
Seats: 2 outdoor padel courts (artificial turf)
Costs: 20,- Euro / h
Book: Online booking or via Padel Bremen Weyhe Contact details
Service: Taster courses, padel courses, training for beginners, advanced, youth & children, 3 licensed padel trainers.
Hint: All Padel courts in Bremen you can find here in the overview!
Padel Bremen Weyhe - 2 padel courts
Services Padel Bremen Weyhe
Indoor Padel
Outdoor Padel
Racket rental
Padel Training
Padel tournaments
Online booking
Gastronomy
Opening hours Padel Bremen Weyhe
Monday:

09:00 - 22:00

Tuesday:

09:00 - 22:00

Wednesday:

09:00 - 22:00

Thursday:

09:00 - 22:00

Friday:

09:00 - 22:00

Saturday:

09:00 - 22:00

Sunday:

09:00 - 22:00
Padel Bremen - TC 71 Weyhe News
Contact Padel Bremen - TC 71 Weyhe
Company:

Padel Bremen - TC 71 Weyhe

Address:

Bollmannsdamm 6A

POSTCODE:

28844

City:

Weyhe

Land:

Germany