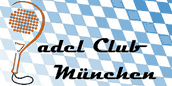 The Padel Club Munich is the first pure padel club in Munich and Bavaria. On the Padel court in the Sportscheck all-weather facility in Unterföhring, club president Álvaro Alonso organises taster courses for beginners, padel tournaments for all padel enthusiasts and an internal padel ranking for members.
Of course, the Padel Club Munich regularly organises tournaments for beginners, advanced and competitive players. Due to the large Spanish-speaking community, which has often played and trained padel tennis for many years in their home country, the padel level in Munich is remarkable.
An established and reliable partner of the Munich Padel Club for many years is the Padel supplier Wilsonwhich is present at all events. So it's no wonder that the official padel ball at the tournaments in Munich comes from Wilson!
Padel Club Munich Book seats
Membership of the Padel Club Munich is possible at any time and comes with benefits:
Personalised polo shirt after registration
professional advice around padel
Discounts for tournament and league participation
Discount on padel court rentals
Participation in exclusive events etc.
Admission fee:
30,- Euro for adults
10,- Euro for children up to 18 years
Annual fee:

Book: On request via Padelclub Munich contact details
Padel Training Munich
Of course, the Padelclub München also offers training sessions. Whether beginner or advanced: A qualified padel trainer is available for both members and non-members at any time. Individual lessons and group training can also be booked.
There are:
Extra for beginners: taster courses on request
Individual training
Group training
Training price - non-members:
1 person/h: court fee + 25,- Euro
2 persons/h: pitch fee + 30,- Euro
3 persons/h: pitch fee + 45,- Euro
Training price - members:
1 person/h: court fee + 15,- Euro
2 persons/h: pitch fee + 20,- Euro
3 persons/h: pitch fee + 30,- Euro
More Padel courts in Germany you can find here!
Padel Club Munich - 1 padel courts
Services Padel Club Munich
Indoor Padel
Outdoor Padel
Racket rental
Padel Training
Padel tournaments
Online booking
Gastronomy
Opening hours Padel Club Munich
Monday:

07:00 - 23:00

Tuesday:

07:00 - 23:00

Wednesday:

07:00 - 23:00

Thursday:

07:00 - 23:00

Friday:

07:00 - 23:00

Saturday:

07:00 - 21:00

Sunday:

07:00 - 21:00
Contact Padel Club Munich
Company:

Padel Club Munich

Address:

Münchner Str. 15

POSTCODE:

85774

City:

Munich

Land:

Germany