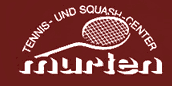 Padel Tennis in Murten south-west of Bern, situated on the beautiful Lac de Neuchâtel: that's what the Murten Tennis and Squash Centre offers - and has done since 2012:
2012: Set-up in August
2013: Building permit in March
2013: Lounge opening in June
2014: 1st tournament with top national players
2015: Light installation
All Padel Bern - Murten tournaments at a glance!
The padel community there is very active and not only organises tournaments, but also has a strong padel league. The coach there is Tommy Othenin, who already has many years of experience as a player and promoter in Spain and Switzerland.
More Padel Tennis Courts in Switzerland.
---
Padel courts
Attachment: Part of the Tennis & Squash Center Murten
Wet and changing area
Sports Bistro
Seats: 1 outdoor padel court (blue artificial turf) with floodlights
Playing times: Mon - Fri: 8:00 - 22:00
Sat. - Sun.: 9:00 - 18:00
Costs: 40,- CHF / hour
With discount card up to 15% discountRental fee padel rackets: 5,- CHF
Rental fee balls: 2,- CHF
Book: Online booking or via Padel Bern Murten Contact details
Service: Individual training from 70,- CHF / h
Group training from 135,- CHF / 4 persons á 5 lessons
Taster courses
Other: Equipment rental
Play partner search
Pade League
Tournaments
Padel Bern - Murten - 1 padel courts
Services Padel Bern - Murten
Indoor Padel
Outdoor Padel
Racket rental
Padel Training
Padel tournaments
Online booking
Gastronomy
Opening hours Padel Bern - Murten
Monday:

08:00 - 22:00

Tuesday:

08:00 - 22:00

Wednesday:

08:00 - 22:00

Thursday:

08:00 - 22:00

Friday:

08:00 - 22:00

Saturday:

09:00 - 18:00

Sunday:

09:00 - 18:00
Contact Padel Bern - Murten
Company:

Padel Bern - Murten

Address:

Freiburgstrasse 45

POSTCODE:

3280

City:

Murten

Land:

Switzerland