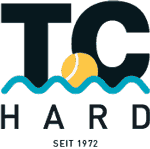 Padel at TC Hard on Lake Constance - There are no other padel courts within 100 kilometres of Hard. The closest court is in Zurich, followed by Munich. In Austria, you can (still!) count the number of padel courts on two hands. With the courts in Hard, however, Vorarlberg is now also on the Padel court map represent.
The Hard Tennis Club was founded in 1972, has about 350 members and operates 9 clay courts and two indoor courts at its facility on the Bregenzer Ach and, since May 2017, has been the only club in Vorarlberg with 2 padel courts. This makes the club from Lake Constance the second largest of its kind in the beautiful state.
More Padel courts in Austria here in the overview!
---
Padel courts
Attachment: Sports grounds of TC Hard Vorarlberg
Own sports hall
Wet and changing area
Sauna
Sun terrace
Gastronomy "Club 72
Children's playground
Seats: 2 outdoor padel courts (artificial turf)
Playing times: Daily from 07:00 - 23:00
Costs: Summer season: 28,- Euro / court (1,5 hours)
Winter season: on request
Book: Online booking or under the Padel Bregenz Hard contact details
Service: On request (trainer@tchard.at)
Other: Regular padelevents and tournaments
Annual membership Padel from 165,- Euro (plus 50,- Euro admission fee)
Other sports
Padel Bregenz - Hard - 2 padel courts
Services Padel Bregenz - Hard
Indoor Padel
Outdoor Padel
Racket rental
Padel Training
Padel tournaments
Online booking
Gastronomy
Opening hours Padel Bregenz - Hard
Monday:

07:00 - 22:00

Tuesday:

07:00 - 22:00

Wednesday:

07:00 - 22:00

Thursday:

07:00 - 22:00

Friday:

07:00 - 22:00

Saturday:

07:00 - 22:00

Sunday:

07:00 - 22:00
Padel Bregenz - TC Hard Vorarlberg News
Contact Padel Bregenz - TC Hard Vorarlberg
Company:

Padel Bregenz - TC Hard Vorarlberg

Address:

Walserstrasse 20

POSTCODE:

6971

City:

Hard

Land:

Austria