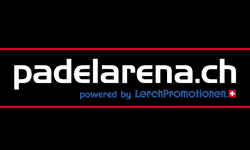 The Padelarena Wädenswil is the largest indoor padel hall in Switzerland (actually, in the entire German-speaking region!) and is only a 20-minute drive from Zurich. On 6 indoor courts (Padel Platzbauer: Padelcreations), players can play padel daily from 10:00 to 23:00.
All Padelarena Zurich-Wädenswil tournaments at a glance!
The court rental costs 40,- CHF per hour. Of course, 1.5 and 2 hours of play are also possible! Anyone interested in a match in the new Padel Arena in Wädenswil can reserve a Padel tennis court online or by phone. The padel facility also offers catering for hungry guests and players in a bistro.
Here is a promo video from the Padelarena Wädenswil:
The Padelarena Wädenswil also regularly hosts exciting Padel tournaments and padel camps take place.
Book Padel courts Wädenswil
Costs:
1 hour court rental 40,- CHF
1,5 hours court rental 60,- CHF
2 hours court rental 80,- CHF
Book: Via Online reservation or Padelarena Wädenswil Contact details
More Padel facilities in Switzerland here in the overview!
Padelarena Wädenswil - 6 padel courts
Services Padelarena Wädenswil
Indoor Padel
Outdoor Padel
Racket rental
Padel Training
Padel tournaments
Online booking
Gastronomy
Opening hours Padelarena Wädenswil
Monday:

10:00 - 23:00

Tuesday:

10:00 - 23:00

Wednesday:

10:00 - 23:00

Thursday:

10:00 - 23:00

Friday:

10:00 - 23:00

Saturday:

09:00 - 20:00

Sunday:

09:00 - 20:00
Padelarena Zurich-Wädenswil News
Contact Padelarena Zurich-Wädenswil
Company:

Padelarena Zurich-Wädenswil

Address:

Zugerstr. 162

POSTCODE:

8820

City:

Wädenswil

Land:

Switzerland