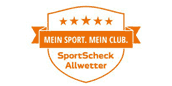 The 1st Padel Court in Munich is located in the Sportscheck All-Weather Facility. Where once a miniature sports field remained unused, this first padel location was installed in the Bavarian capital of Munich in August 2011. The grand opening ceremony with top players from all over the world was the beginning of a highly frequented padel spot to this day.
The outdoor padel court (artificial turf) with floodlights is located in the courtyard of the SportSchek all-weather facility.
Tournaments of all federations, events of all kinds and former tennis pros picking up a padel racket for the first time followed. Today, the padel court is the official venue of the very active Padel Club Munich e.V. and also to the general public and is available for courses and training. And all the other amenities of the Sportscheck all-weather facility are also accessible to padel players.
Book Padel court SportScheck
Playing times:
Monday to Friday:
07:00 - 23:00
Saturday, Sunday and public holidays:
07:00 - 21:00
Costs:
April - October:
07:00 - 15:00 for 22,- Euro / hour
15:00 - 23:00 for 33,- Euro / hour
November - March:
07:00 - 23:00 for 22,- Euro / hour
Rental fee:
Padel rackets for 5,- Euro and handing over of a valuable deposit (e.g.: identity card, driving licence)
Balls for 10,- Euro (3 pieces per pack)

Book: Online booking or via Padel Munich SportScheck contact details
Padel Training SportScheck Munich
The Padel Tennis training offer is supported by the Padelclub Munich e.V. provided.
All Padel courts Germany's at a glance!
Padel SportScheck Munich - 1 padel courts
Services Padel SportScheck Munich
Indoor Padel
Outdoor Padel
Racket rental
Padel Training
Padel tournaments
Online booking
Gastronomy
Opening hours Padel SportScheck Munich
Monday:

07:00 - 23:00

Tuesday:

07:00 - 23:00

Wednesday:

07:00 - 23:00

Thursday:

07:00 - 23:00

Friday:

07:00 - 23:00

Saturday:

07:00 - 21:00

Sunday:

07:00 - 21:00
Padel Munich - SportScheck News
Contact Padel Munich - SportScheck
Company:

Padel Munich - SportScheck

Address:

Munich street 15

POSTCODE:

85774

City:

Unterföhring

Land:

Germany