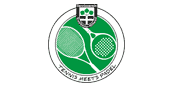 Padel Espelkamp: Since mid-August 2013, the padel facility with 2 courts (dark blue with blue artificial turf and floodlights) has been available at the North Rhine-Westphalian tennis club TV Espelkamp. Hadi Hashemi, 1st chairman of the tennis club, knew Padel from Spain and immediately saw the advantages of the new sport for the club. With the approval of the executive committee, the two padel courts were built on the site of a demolished tennis court.
The circulation has been designed so that padel fans can sit comfortably in the spectator stands and the walk around the grounds is a short one. For those who want to play, simply report to the bistro in the tennis and badminton centre.
Since the opening of both courts, padel has been played there diligently. Padel tournaments are held and the local tennis heroes of the Bundesliga team take part in national tournaments of the Padel Association, also directly on site.
Book Padel Espelkamp courts
Costs:
From 5,- Euro for non-members, free for members
Floodlighting: 3,- Euro / h (2,- Euro for members)
Padel loaner rackets: 2,- Euro (1,- Euro for members)
Membership Padel Tennis Espelkamp:
You want to play padel and tennis regularly?! No problem! For only €8.50 per month, you can play around the clock for the first 2 years.
Book: After consultation via Padel Espelkamp contact details
Service: Free taster training every Monday from 18:30 - 20:30, introductory padel courses, training courses for beginners to advanced players.
In search of a Padel court in Germany? Take a look at the overview now!
Padel Espelkamp - 2 padel courts
Indoor Padel
Outdoor Padel
Racket rental
Padel Training
Padel tournaments
Online booking
Gastronomy
Opening hours Padel Espelkamp
Monday:

09:00 - 22:00

Tuesday:

09:00 - 22:00

Wednesday:

09:00 - 22:00

Thursday:

09:00 - 22:00

Friday:

09:00 - 22:00

Saturday:

09:00 - 22:00

Sunday:

09:00 - 22:00
Company:

Padel Espelkamp

Address:

Trakehner Street 14

POSTCODE:

32339

City:

Espelkamp

Land:

Germany