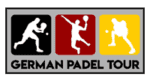 The German Padel Tour is organised by the German Padel Federation organised. The year-round Paddle tournaments for padel players (men and women) are the highlight of German padel sport.
The best padel players from Germany meet here regularly, but top players from the Netherlands, Poland, Argentina and Spain also like to take part in the tournaments of the German Padel Tour, as the highest level of play in Germany can be found here.
After a top-class preliminary round, the following teams made it to the last four:Darek Nowicki & Oli Schwörer, Fabian Schmidt & Oli Strecker, Jonas Messerschmidt & Christian Böhnke and ...
Address:

Immenweg 14

POSTCODE:

44799

City:

Bochum

Land:

Germany
Padel Tournament Organiser