Padel Tennis - the fastest growing sport in the world
Padel Tennis Knowledge - FAQ
Padel Tennis Courts
There are now over 200 padel tennis courts in Germany and a further (almost) 200 padel courts in Austria, Switzerland and South Tyrol. So padel tennis is slowly gaining momentum in the German-speaking world as well.
On the map below you will find the current padel tennis courts in Germany, Austria and Switzerland.
If you want to find out more about the individual padel locations (e.g. indoor courts, outdoor courts, court rental,. Opening hours, padel training etc.), you can search here: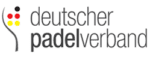 German national padel players have a good start to the season in Holland
At the FIP World Ranking Tournament last weekend in Holland, the German national padel players were able to achieve their first successes of the still young padel season. Justus Herbert and Lars Bosselmann, who had previously played each other more often than...
Padel Tennis Video
The best and most spectacular padel points and padel matches in video:
Padel constructors search
No matching entries found
Build more padel courts!
On the padel map you will find the current padel tennis courts (orange) and the planned padel tennis courts (blue). Already quite busy - but still enough space to realise your dream of a padel court!
Build more padel courts!
Are you building a new padel court? Or do you want to build a padel court? We know the Padel court constructors and contact persons who can help you with the planning and also the padel player activation.
Whether you are a club, association or commercial provider - we will be happy to help you!

Padel-Test informs about Padel and Padel Tennis and offers information about opening hours, training and booking possibilities for all Padel locations in Germany, Austria and Switzerland. Map Padel courts) and now also almost all of Europe. On Padel-Test.de you will also find the latest Padel tournaments.
I look forward to feedback and suggestions!
Sporty greetings, your David Ernsting