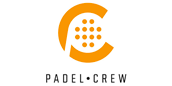 Padel Helsingborg: that's what Padel Crew Helsingborg means!
This is not a normal padel site:
35 indoor padel courts
3 outdoor padel courts
Together 38 padel courts = largest padel facility in the world.
38 padel courts with WPT turf
12 metre high ceilings
1 Padel Shop
1 Reception
1 lounge to relax in after a game of padel
Padel Crew Helsingborg offers everything from network padel to corporate events and larger competitions, with a programme tailored to your needs.
More information will follow shortly...
Padel Crew Helsingborg - 38 padel courts
Services Padel Crew Helsingborg
Indoor Padel
Outdoor Padel
Racket rental
Padel Training
Padel tournaments
Online booking
Gastronomy
Opening hours Padel Crew Helsingborg
Monday:

06:00 - 23:00

Tuesday:

06:00 - 23:00

Wednesday:

06:00 - 23:00

Thursday:

06:00 - 23:00

Friday:

06:00 - 23:00

Saturday:

06:00 - 23:00

Sunday:

06:00 - 23:00
Padel Crew Helsingborg News
Contact Padel Crew Helsingborg
Company:

Padel Crew Helsingborg

Address:

Rännarbanan 32

POSTCODE:

252 32

City:

Helsingborg

Land:

Sweden