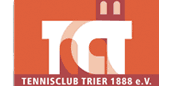 At Padel Trier is the very first padel court in Rhineland-Palatinate. The padel court padelexpert The outdoor padel court with floodlights (grey, artificial turf: blue), built in summer 2012, is located in the middle of the large outdoor area of TC Trier 1888 e.V., next to the Mosel Stadium and not far from the border with Luxembourg. Conveniently, the wet and changing areas can also be used here.
The padel court joined the 21 tennis courts on the initiative of Ralf Wigger, former press and stadium spokesman for Eintracht Trier. Already in the first year, a tournament of the German Masters Series of the DPV and since then the Trier location has been a permanent fixture in the annual tournament calendar. There is also a padel shop through padel expert in cooperation with HEAD and Nox.
Book Trier Padel court
Costs:
16,- Euro / hour (per seat)
20,- Euro / hour (court & rackets)
Floodlight: 2,- Euro / hour
Membership (prices on request)
Book: Online reservation or via Padel Trier contact details
Note on padel court reservation:
Telephone reservations are accepted from 17:00 on +49 (0) 651 - 16566 (Club Restaurant La Palma).
Trier Padel Training
Individual training: 20,- Euro / h
Group training: from 10,- Euro / h
More about the Padel courts in Germany.
Padel Trier - 1 padel courts
Indoor Padel
Outdoor Padel
Racket rental
Padel Training
Padel tournaments
Online booking
Gastronomy
Opening hours Padel Trier
Monday:

10:00 - 22:00

Tuesday:

10:00 - 22:00

Wednesday:

10:00 - 22:00

Thursday:

10:00 - 22:00

Thursday:

10:00 - 22:00

Saturday:

10:00 - 22:00

Sunday:

10:00 - 22:00
Company:

Padel Trier

Address:

At the stadium 1

POSTCODE:

54292

City:

Trier

Land:

Germany