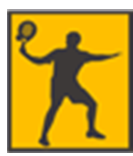 Padel coach Mike Rose
With over 10 years of experience "on court", Mike Rose trains from the perspective of a padel facility operator. His padel trainings mainly focus on content that helps in daily training and further activation of the game. Mike has a padel association coach licence and is, among other things, responsible for the implementation of the padel coach training concept for Germany initiated by the Spanish and European association under the direction of Martin Echegaray (Technical Director of the Spanish Padel Federation).
Mike Rose was the owner and sporting director of the Padel Point NRW in HerneHe was the co-trainer of German Schäfer and coached the national women's padel team.
In addition, Mike is a trained and state-approved Mentaltrainer-Sport (ILS certified, final grade 1).
Mental training in particular is immensely important and a big topic in padel. Nowadays, almost all padel professionals work with mental trainers. Therefore, mental training is an important component of his padel training concept. Besides Herne, he has already worked as a padel coach in Senegal and Portugal.
Training for padel trainers
In particular, the new padel club will also offer training for aspiring padel coaches.
We will report on this separately at the opening of the padel facility in Sprockhövel.
DPB Trainer Licence
Padel coach instructor
Team Coach
Tennis Trainer Licence