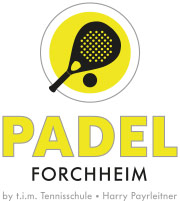 Harry Payrleitner - Padel and Tennis Academy in Forchheim
Padel coach Harald "Harry" Payrleitner has been a full-time tennis player for 25 years and runs the tennis school "Tennis is magic" - a well-coordinated team of around 10 tennis enthusiasts.
In 2013, Harry played padel for the first time in Andalusia and found a new love (besides his wife and two children!). Since then, he not only plays regularly, but also continues his education in order to be able to pass on his padel knowledge to his padel students.
He also plays in padel tournaments from time to time - his biggest successes so far were the 3rd place at the GPT tournament in Nuremberg and the nomination for the 1st Senior Padel World Championships in October for the Austrian national team.
His next big goal is to build 2 padel courts on a new tennis and football facility at his home club (it is moving to a new facility).
Then padel should really get rolling in Franconia too!
Below are a few photos of Harry at "work".
Address:

Winkelreuth 15a

POSTCODE:

91301

City:

Forchheim

Land:

Germany